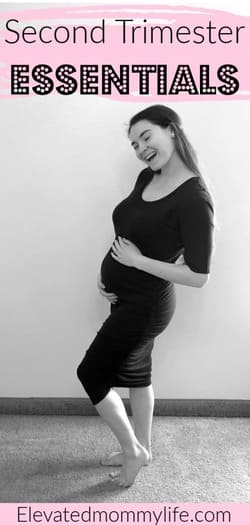 Welcome to the second trimester!
A time of swollen knees, raging hormones, and amazing firsts. Usually, in the second trimester, you'll feel your baby kick for the first time. You may also sneeze and pee yourself a little bit for the first time in your life. And it won't be the last.
Don't get me wrong the second trimester is so much better than the first. Most women feel their energy return and stop throwing up 20 times a day. Some aren't so lucky and continue to throw up and feel like the walking dead. Whatever end of the spectrum you're on, I was just there. Now I'm happily sitting in the third trimester counting down the days and able to reminisce on the second trimester.
So here are some essentials to get you through these amazing weeks.
Tissues.
That's right ladies. Tissues. You'll regret not having a box of these bad boys when you're at the grocery store and there are way too many people looking at the tomatoes. Or when you go to out to eat and they forget to give you dipping sauce.
You may think I'm kidding. How could those situations make a person cry? Oh, trust me they have. It's happened to me, my preggy friends, and it'll happen to you.
You thought your hormones were bad in the first trimester… Do yourself a favor and just accept that your tear ducts don't dry up. You may empty them, again and again, day after day but there never seems to be an end to how many tears your body can produce. Now that's the real reason why you have to drink so much extra water when pregnant. Otherwise, your hormones would leave you dehydrated.
Now I'm an Amazon affiliate. Meaning if you decide to buy one of my hand selected products I'll earn some extra $$ (more like .02 give or take but hey I'm not doing this for the money I'm doing this for you) you can read my disclaimer here.
These tissues that I'm featuring are made of the finest absorbent material, perfect for any meltdown. They also come in a travel size so you never have to be without your hand-dandy-tear-dryers.
Books
You might read them, or you might just buy them and leave them on the couch but at least you have them. That's gotta count for something right?
It was actually really helpful to have a book to read to tell you how your body is changing (a throwback to middle school am I right?) and what's going on with your baby at each stage of pregnancy (hopefully this doesn't remind you of middle school). Then things you need to watch out for, so overall whether your buying books to read them or just for the illusion of productivity here are a few of the best ones to get while in the second trimester:
Anti-stretch mark lotion
Some people will say that stretch marks are unavoidable and if you're going to get them, you'll get them. Personally, I don't like that (pardon my language) but I'll be damned if I don't try to avoid them!
Besides whether this lotion is going to save my skin or not it's the best feeling to get out of the shower and get all lotioned up like the goddess that you are.
Pregnancy Pillow
If you don't have one of these yet, you've been suffering for too long for no reason. Get one now!
Because there's nothing like only being able to sleep on your left side, this pillow will prevent you from rolling over to your right side and give you the much needed emotional support as it feels like you're being cuddled all night long. I mean… It'll give you the much needed back support that you need while pregnant. Because you can't sleep on your back, so you need back support.

Pregnancy Pillow, Full Body Maternity Pillow with Contoured U-Shape by Bluestone, Back Support
Maternity Pants
Again if you're in the second trimester and you don't already own a pair of maternity pants, I'd like to stand and give you a round of applause. But you've really been suffering for way too long for no reason.
Maternity pants are like your favorite pair of jeans that will never betray you as you get larger and larger. You don't have to worry about bending over and having them rip. Mostly because you won't be able to bend over soon. And they are made of the stretchiest material and you'll honestly never want to go back to normal pants.
Why would you? When you can look fashionable and feel like you're wearing pajamas?
Self Care Kit
When you were a kid did you ever have a hard day and daydream about prince charming coming and saving you? AND HE DIDN'T??!!! (jerk *insert eye roll)
Well, pregnancy is much like this. You can have the world's most amazing significant other but there are those days… sometimes your prince charming isn't able to be around or understand why you're crying over your socks not matching.
Whatever it may be sometimes you gotta be your own prince charming. You've got to rescue yourself from your hormones because no one else knows quite why you're crying, or why you're upset. You probably won't even know at times.
So having a few self care essentials to spoil yourself with can be your saving grace. I mean you deserve it after all.
If you enjoyed this comical take on pregnancy let me know in the comments! I feel there needs to be more humor in what we're going through, it's amazing what our bodies are doing. And laughter and happiness are one of the best things during this time. But I will say I fully stand by all these products because they have been lifesavers in my own pregnancy.
Have anything else I should add to the list? Let me know in the comments!