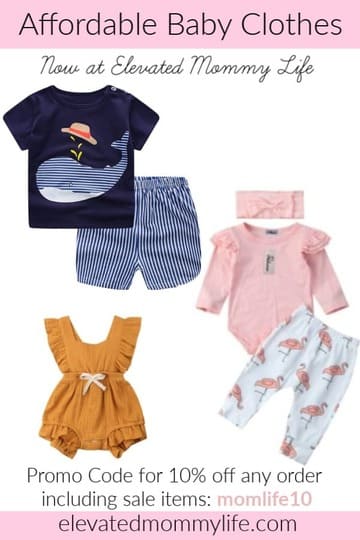 Affordable baby clothes now sold at Elevated Mommy Life
I've decided to add a store to the website because I love the process of creation and affordable clothes! Which is why I'm a web designer and a graphic designer because I love to create something out of nothing. I've designed clothing for other online stores but I'm ready and excited to be selling them right here at Elevated Mommy Life.
*Please note not all of the clothes in the store are my designs but there are quite a few products that are.
Go check out our store, just click on the Shop tab:

So far we have 4 main categories. Elevated Mommy Life was founded on the passion of yoga and personal development which is why "All Things Yoga" is a must-have for our store.
The main focus, of course, is baby clothes. Most of our baby clothes are on sale, and since this is a space for moms we also sell clothes for you! For hardworking superhero mamas!
Now if you love to match your little one check out our adorable mom and babe combo:
I want to provide affordable baby clothes and affordable clothes for you as a mom. For the first month (starting now) we are going to be offering free shipping on all US orders and to make our grand opening a little sweeter to you…
Use this promo code for an extra 10% off of any product: Momlife10
Yes mama, that includes sale priced items! Here are a few of our favorites in the store right now: