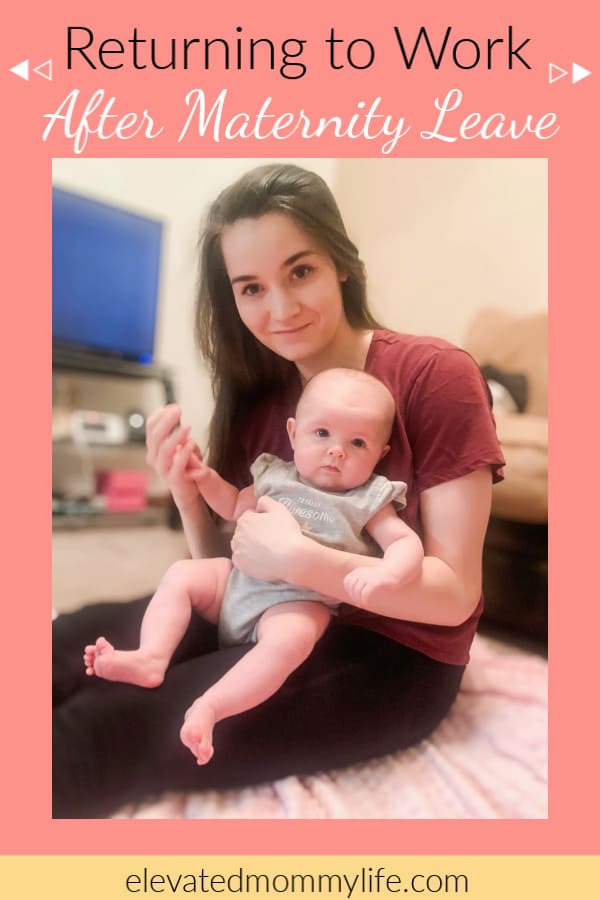 Maternity leave was the longest shortest 12 weeks of my life. Becoming a mom has been a wonderful, emotional, exhausting, and beautiful experience. 
I have been back at work for three weeks now and wanted to talk about my experience with returning to work after maternity leave, and some key tips that make going back easier.
I have always wanted to be a stay at home mom, I cannot tell you how many hours, days, weeks, etc. I have spent worrying and stressing about having a baby and not being able to stay home. I have cried countless times at the thought of having to give my daughter to a stranger to raise. Looking at daycares just about sucked the life and joy out of me.
I wanted nothing more in this world than to be a stay-at-home mom. 
But as life would have it, that's just not a possibility at this time. When I was pregnant it broke my heart thinking that I'd have to go back to work. And for the longest time during my pregnancy, I didn't actually feel like I was going to be a mom because I was just going to have to give my daughter to someone else to look after for the majority of the day. 
I felt like my motherhood was being stripped away from me because I couldn't be there for her during the day.
Going back to work:
My first day back was on Labor Day, ironic I know. I thought I would spend my breaks crying in the bathroom. I thought that I would barely be able to talk to people about her because I'd miss her so much. I was so afraid to go back.
What you should know:
I had a really hard maternity leave. I was alone for 18 hours out of the day, I barely had time to eat or take care of myself. Part of this was learning how to be a mom and feeling such horrible mom guilt for everything even setting my child down. I worried about her flat spot getting worse, I felt like she needed me all the time because the second I'd set her down she'd cry.
When my husband came home from work he'd "give me a break" but he only got 3 days off from work when she was born and he didn't know what to do with her. He didn't know how to juggle holding a baby and getting up to get things. So when he'd be looking after her he'd ask me to grab a burp cloth, or to get her pacifier, or to get his phone. He always needed something the second I sat down and he couldn't get it himself.
I felt like when he came home I was now looking after 2 kids. I never got a break. We live out of state from most of our family. His grandparents live nearby, but I don't have any family here.
Okay, sob story over! You get the idea. My maternity leave was very lonely. Motherhood is very lonely. Not getting a break, and having your life completely change is very difficult. Not getting to do anything I wanted or needed to do was so hard. It still is. 
How my first day back actually went:
Like I said before I thought I'd be crying in the bathroom most the day. But I didn't shed a single tear. It was exciting to see my friends and co-workers again. Everyone that I walked past was like, OMG you're back!! How are you?! And I got to show off my cute baby, I literally showed her off to everyone I talked to.
I loved getting a break. 
It was liberating to drive alone in my car, and to be able to go to the bathroom without having a crying baby in the background and feeling helpless and torn because I have to take care of myself but she also needs me. And how dare I take a second for myself, right?!
I felt bad for loving it so much. I loved getting a break from a crying baby. while on leave I would exhaust myself to the point where I was crying every single night because I didn't have any help during the day. Because I couldn't do ANYTHING for myself. When she slept I had to choose between sleeping, going to the bathroom, eating, or cleaning the house. I'd get one or two of those things done before she'd wake up and start crying again, or need to eat again.
I barely ate during maternity leave. I was starving because I was breastfeeding but taking care of her was more important than cooking. At work, I can eat whenever I'm hungry and not feel guilty.
I felt a different kind of guilt going back to work than what I had expected.
When other moms would say, "How are you really doing being back at work? Because I know the first week back was the hardest for me, but don't worry it'll get easier."
I felt bad because I loved getting to work again. I never thought I'd feel this way. I thought something was wrong with me because it felt so good to be back at work. I still missed my sweet girl, don't get me wrong. The thing is you don't have to feel bad for liking work, for liking getting a break from a screaming child. As moms we do what we have to do and sometimes that means 
But it was nice to talk to adults again. It was nice to be out of the house. I couldn't really leave the house with my newborn because she was born in June and where we live the average summer temperature is 110-120 degrees.
But I really did miss getting to sleep in with her, and rocking her to sleep in the morning. I have to get ready for work at 4:30am so I miss most of our mornings together. Sometimes she'll wake up at 3:00 or 4:00 and I'll feed her and take care of her before I leave.
Things that helped me with returning to work:
Find someone you know and trust to watch your child.
Ask for a schedule that makes you happy. I went from working 8:30am – 5:00pm to 6:00am – 2:30pm it is so much easier to go to work knowing that my baby sleeps really good until about 11am so I'm only missing a few happy/awake hours with her instead of the whole day. 
Do work you love. I'm so glad that hat I'm in a career that I love and I didn't dread going to work before having a baby so I don't hate it now. 
Listen to something uplifting every day. Whether it's music that makes you happy, a podcast, audiobooks, TedTalks, etc. fill your life with positive things.
Set goals. Have something that you are working towards. Whether it's family oriented, about your career or physically fitness 
Take pictures of your little one for your desk. I made these DIY picture holders so I can see her while I'm working. They make me smile and stay motivated to work hard.
Final thoughts:
I have never felt so much love in my life. I am so grateful to be a mom, she is the light of my world and now that I'm back at work I treasure our time together so much more! I love every happy and or exhausting moment of being her mom. She pushes me to work hard and to be happier, to be the best I can be for her. 
Returning to work isn't easy. It's hard, life is full of hard things but with the right mindset we can do incredible things, things we never thought we could do. I know I have to work in order to provide a good life for our little family, and finding a balance between work and family is key! I absolutely love my life and where we're at right now, and I can't wait to see what the next few months and years have in store for us.